Blogging can be a great way to increase your organic traffic, and there's no marketer alive that would disagree with that. However, there's a significant difference between general blogging and creating SEO blog posts.
Search engine optimisation is the process of optimising your content to ensure it has the opportunity to rank on the search engine results page – but there's a lot more to it than a few simple keywords.
In this blog post, we'll discuss some tips that will help you improve your blog's SEO and get more visitors from Google and other search engines.
We also have some tips on creating content that is both search engine friendly and engaging for your readers. So if you're looking to increase your website's organic traffic, keep reading!
The Link Between Google's Algorithm and SEO Blog Posts
Google's algorithm is constantly changing, but some general principles remain the same. One of these principles is that Google favours fresh, relevant content websites. This is where blogging comes in! To understand how blogging can help your website's SEO, it's essential to know how Google's algorithm works.
When you publish a new blog post, it provides your website with fresh content that can help improve your SEO. In addition, if you include keywords and phrases in your posts that are relevant to your business, you may also rank higher in Google's search results.
However, the content MUST be exciting and of high quality. We've moved on from the days of keyword stuffing, and Google no longer rewards people for irrelevant content with every keyword you can imagine.
Instead, you need to choose your keywords carefully and prioritise content quality above all things.
We'll go into keyword research in detail later, but for now – let's look at the other benefits of SEO.
What Can SEO Do For Your Blog?
SEO can do a lot for your blog, but it's important to understand that SEO is not a magic bullet. It will not automatically make your blog popular or guarantee you thousands of visitors. However, it can be a powerful tool to help increase your blog's visibility and organic traffic.
Here are some of the benefits of SEO:
You'll generate more traffic from Google and other search engines.
You'll benefit from more traffic when you build a strong SEO profile across your blog. This traffic will be more targeted and likely to convert, as it's coming from people who are already interested in what you have to say.
You'll rank higher in Google search results.
As we've mentioned before, one of the main benefits of SEO is that it can help your blog rank higher in Google's search results. This means that you'll get more visitors from Google, the world's largest search engine.
Your blog posts will be found more easily by potential readers.
SEO makes your blog posts more accessible for potential readers to find. When they're ranking high on Google, your blog post titles and descriptions will show up in the search engine results pages (SERPs), increasing your chances of reaching the right audience.
Your SEO can help build trust and credibility with potential customers.
Each time someone types a query into Google or other search engines, they'll receive a page of results that are relevant to their question. If you plan your SEO strategy correctly, you'll be able to give yourself the best chance of ranking.
How to Optimise Your Blog Posts for SEO
Now that we've talked about the benefits of SEO let's discuss how you can optimise your blog posts for better results. Here are some of our best tips.
Do your research
Keyword research is essential to rank higher in Google's search results. You need to find out what keywords and phrases people are searching for relevant to your business. Once you know this, you can include these keywords in your blog posts to help improve your ranking.
There are many helpful keyword research tools out there, and you'll have plenty of options available.
Some of our favourites include:
Surfer SEO – Ideal for researching keywords and creating SEO content.
Google Keyword Planner – Free tool that lets you plan a content strategy
SEMRush– Premium SEO tool – but it comes with a hefty price tag!
Finding the Right Keywords
The secret to an excellent SEO strategy is finding the right keywords. For example, if you're selling cat food, you'll be going against some huge brands – which isn't always ideal for a small business.
Volume and competition are the two things you need to watch out for, and they can be the difference between successful SEO or getting lost in a sea of your competitors!
Keyword Volume: This term refers to how many people search for this keyword, so the higher the volume – the more popular it is.
Competition: Each keyword has a competition or difficulty level, enabling you to see how hard it will be for your business to rank.
High volume keywords always have more competition, so they're not ideal for new businesses because you'll compete with much larger brands. You need to find medium competition keywords that you'll be much more likely to rank for.
As you can see from this example, high competition keywords will be incredibly difficult to rank for, but a low or medium keyword gives you more opportunities.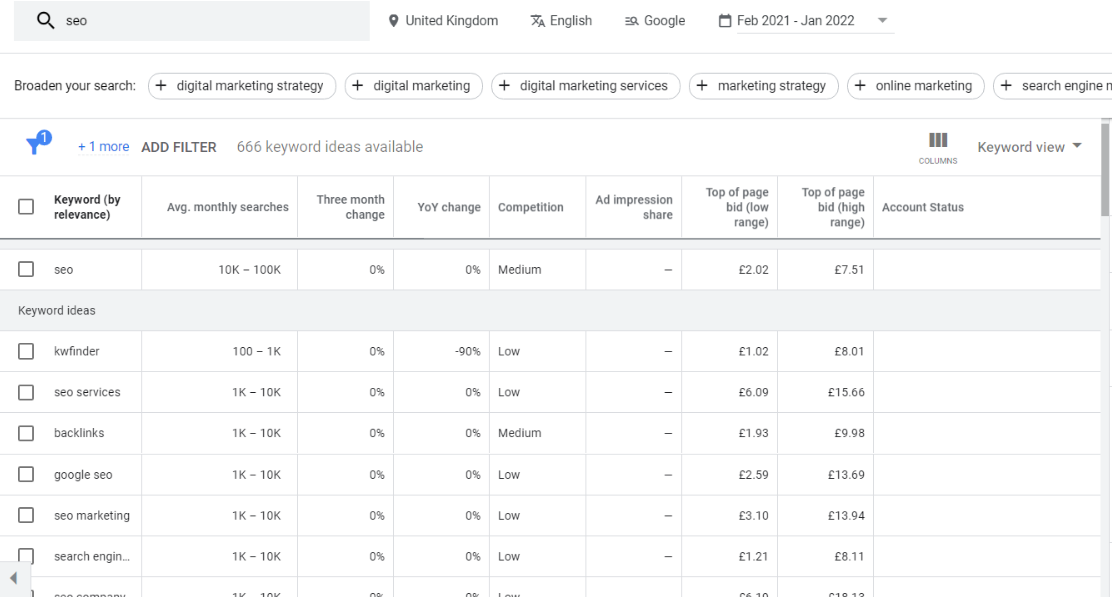 Once you build a good SEO profile, you can begin to add higher volume keywords and compete with larger brands.
Use Keyword-Rich Titles
The title of your blog post is one of the most important elements for SEO. It's what appears in the SERPs, and it's what will help people decide whether to click through to your blog or not.
Your title needs to be catchy and interesting, but it also needs to include your target keyword. This can be a tricky balance to get right, but it's essential if you want to rank higher in Google.
For example:
If your keyword is Best Dog Food, your title should reflect that keyword.
Use Meta Descriptions
A meta description is the short paragraph of text that appears below your title in the SERPs. It gives potential readers an insight into what your blog post is about, and it's another opportunity for you to include keywords.
Your meta description should be around 155 characters long, including your target keyword.
One of our favourite meta descriptions is from Taco Bell.

The short meta description is simple, yet full of the information a customer would want. The brand makes sure they mention their customiseable features, which stands out on the search engines.
Use Alt Tags
An alt tag is a piece of code that helps search engines understand what's in an image. They're also known as alt attributes, and they're a vital part of SEO.
Alt tags help Google index your images, which can be beneficial if you have an image-heavy blog. They also give you another chance to include keywords, which can help improve your ranking.
Remember to use relevant keywords in your alt tags and keep them short and sweet.
Format Your New Blog Post Properly
The format of your blog post is also crucial for SEO. Breaking up your text with headlines, subheadlines, and bullet points makes it easier to read, and it also helps Google understand the structure of your blog post.
Headlines and subheadlines are a great way to break up your text, and they're also an opportunity to include more keywords.
If you want to rank higher in Google, make sure your blog posts are well-formatted and easy to read.
Both WordPress and Google Docs make formatting your headings easy because both do it automatically, which means you don't need to enter any tags.
Use Short Paragraphs
One of the most important things to keep in mind when formatting a blog post for SEO is to use short paragraphs. This means that each section should be no more than a few sentences long.
Why? Because search engines prefer content that is easy to read and understand. Readers often skip over long paragraphs, so they are less likely to rank well in search results.
Include Keywords – Hold the Stuffing
When writing your blog post, be sure to include relevant keywords throughout the content. These keywords should be ones that your target audience is searching for.
By including them in your post, you can improve your chances of ranking higher in search results. Just be sure not to stuff your keywords too much, or else you could get penalised by Google – and your readers won't appreciate it!
Use Bold Setting For Emphasis
The bold setting can be a powerful ally for SEO, but remember to use it wisely. When you want to emphasise a point, use the bold setting to help your readers quickly and easily identify the most critical points in your blog post.
Include Images
Images are a great way to add visual interest to your blog post and help engage your readers. They can also be used as an effective SEO tool.
By including images in your posts, you can improve your chances of ranking higher in search results. Be sure to include keywords in your images' file names and alt text for maximum effect.
Alt text is always good for SEO, but you should use it to describe your image correctly – instead of stuffing it with keywords.
Add Links
Links are an essential part of any blog post. Not only do they help your readers find more information on the topics you are discussing, but they can also improve your SEO.
When adding links to your blog post, be sure to use keywords in the anchor text to improve your chances of ranking higher in search results.
Internal links might not seem as important as backlinks, but they're beneficial to help others navigate around your website and find other blog content. Search engines also love crawling a website with strong internal links and will be grateful for the extra effort.
Tips That Make Life a Bit Easier
Let's face it, we're all busy, and sometimes creating excellent blog content, building an internal linking strategy AND formatting your keywords isn't possible – which is why plugins are so helpful.
Here are some favourites.
Perhaps the best SEO plugin for WordPress, Yoast offers both a free and premium service. While the free version enables you to add one keyword, the premium provides more for people who want to ensure ranking.
It's easy to use and can be a great addition to your WordPress site.
One of the most useful technical SEO tools available is EWWW optimising your images to ensure a faster loading time. To put it simply, this tool is invaluable!
Pro Rank Tracker analyses your website for you, so you don't need to spend ages on research. This tool lets you see your site on search engines and ensures your on-page SEO is performing well.
We love this tool because it's so brilliant. Instead of going through your blog posts to find the best internal links, SEO smart links do it all for you. This means you can offer valuable content to your readers and succeed with organic search positions.
Do You Need Any Help With Your Blog SEO?
By following these blog SEO tips, you can learn how to format a blog post for SEO and take your content to the next level. Remember that your blog content will only be successful if you write high-quality content.
This means no stuffing and never sacrificing your content for the sake of a few keywords. If you need some help, our content writing services are available so you can focus on the areas of your business you enjoy.